To download the sheets from Talon's public Dropbox, click on a link, below.
Updated files are indicated on the images, below.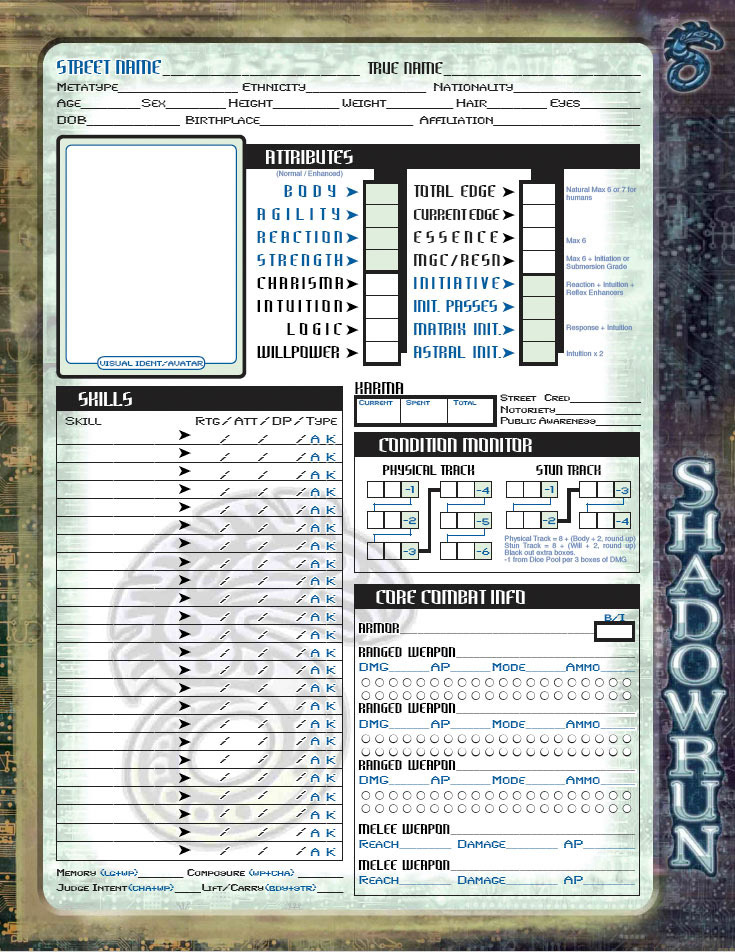 Why aren't the sheets form-fillable?  

Making documents this complicated form-fillable is a long and involved process that happens after the PDF has been created from the original InDesign source.  It's many hours of menial work, and if a slight change is made to the original document, resulting in a new PDF, the process must be repeated.  If you have Adobe Acrobat, you should be able to add text to your PDFs anyway, allowing you to "fill out" the forms as you see fit.  Or just print them and fill them out on paper.  It's called "pen-and-paper roleplaying" for a reason.
Is this all you have?  My favorite game isn't here!  

 These are the sheets for the most popular games I've played, and the ones I believe to be the most relevant to the hobby as a whole.  I have, however, pretty

much made a sheet for every game I've ever played.  Besides the sheets presented here, I have sheets for

D&D

4e,

d20 Modern/Future/Past/Urban Arcana

,

Dragonstar

(3.5, 4e, 5e),

D&D Eberron

(3.5),

HERO System

,

Mummy 2nd Edition

(WoD),

Mutants & Masterminds

(1e),

Pathfinder (Iron Gods),

Rogue Trader

,

Shadowrun

(2e),

Sorcerer Revised

(WoD),

Spellslinger

(d20),

Star Trek

(Last Unicorn),

Star Wars

(D6, d20),

TORG

(1e),

True20

(fantasy),

Bygones

(WoD),

Mage the Ascension

(WoD - 3e/Revised),

Vampire The Dark Ages

(WoD),

Vampire the Masquerade

(WoD - 3e/Revised), and 

Werewolf the Apocalypse

(WoD - Bastet, Ratkin, Nuisha).  If you would like to get one of these sheets, CONTACT ME, and I'll send you a link.
This list is really specific.  Why these games and why haven't some been updated to the current editions?

  I create these sheets as I need them for my own games.  If the selections seem oddly specific, that's why.  I didn't even bother including sheets I made for really obscure games like

Bubblegum Crisis,

 or homemade stuff like 

d20 Modern

versions of

Mutant Chronicles

and

TORG,

or the

Avatar the Last Airbender

campaign I ran

using

Savage Worlds.  

I'm also not including really old sheets like

AD&D

and

RIFTs

, which were among the first sheets I ever tried to create and are horribly primitive by my current standards.
What about

D&D 5th Edition

or

Torg Eternity? I am currently working on a commercial version of my

D&D 5th Edition

sheet, which will be sold through the DMsGuild.  There will be 4 versions, general 

D&D, Forgotten Realms

(including

Acquisitions, Inc

.)

, Eberron

, and

Ravenloft

, each with a unique character on a sample sheet.  Those will be available soon.  As for

Torg

, my

Torg Eternity Deluxe Character Sheet

 is currently available on the Infiniverse Exchange.  You can pick yours up HERE.
White Wolf did an uncommonly good job of designing their character sheets, so I had to make very few changes.  My versions simply add color and spice things up a bit, with small revisions here and there.  The

20th Anniversary

sheets actually have the most revisions, not including the

Werewolf the Forsaken

sheet, which was a complete redesign.